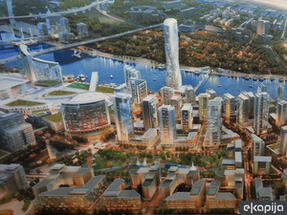 Pripreme za početak gradnje "Beograda na vodi" su u punom jeku. S obzirom na to da je master plan završen i predstavljen javnosti, investitori već traže od projektanata da dostave ponude za izradu neophodne dokumentacije za izgradnju rezidencijalnih kula, odnosno dva stambena zdanja.
To su prvi u nizu projeketa u prvoj fazi radova, koja obuhvata još i Beogradsku kulu, tržni centar i dva hotela.
Sudeći po rokovima koji se postavljaju potencijalnim projektantima, investitori su ozbiljni u nameri da što počne izgradnja. Kako je srpska strana ugovorila sa partnerima iz Ujedinjenih arapskih emirata naše firme biće maksimalno uključenje u projektovanje i izgradnuju ovog kompleksa.
Izvor: eKapija