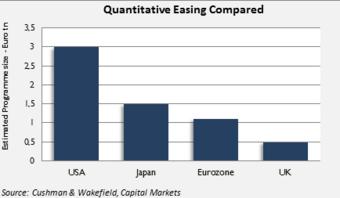 -Better than Expected Performance Lies Ahead
The ECB has today taken markets somewhat by surprise with the scale of its quantitative easing (QE) programme and this should help to consolidate recent bond yield and currency falls and hopefully pave the way for higher inflation expectations and also better GDP growth.
Maintaining market confidence will be crucial to making this happen in the short term of course but to deliver real and sustainable changes going forward, the QE programme needs to encourage governments to get on with deeper structural reforms. In our opinion it will be the committed reformers like Spain who will be most rewarded with increased activity and inward investment.
David Hutchings, Head of EMEA Investment Strategy at Cushman & Wakefield said : "If the QE programme is successful, the impact on property markets in general could be substantial as even more demand will now be diverted into the market. As a result, yields are set to fall more than expected and volumes will be pushed further back towards record levels.
Cushman & Wakefield predicts that without QE, the market would be expecting a 5-10% increase in European investment volumes this year alongside a 20-30bp prime yield fall. With a successful QE package delivering lower for longer borrowing costs, more growth and some reform,  that forecast is increased to a 40-70bp yield fall and a 20% plus jump in property trading.
Cushman & Wakefield points outs that this of course assumes investors can find the stock to buy, which relies on bank sales and deleveraging as well as profit taking and stock recycling. Also however according to Hutchings, "We can expect increased interest in a range of global markets as Europeans export capital in search of opportunities, and also a move back into development, helped by recent falls in commodity prices softening build costs. In addition, we are now anticipating more corporate activity - including asset sales by corporates, joint ventures and takeovers." 
Mike Edwards, Head of Capital Markets in Hungary added:"this could mean very exciting times for the Hungarian market. Whist three quarters of investment deals in the office sector were driven by Hungarian institutions last year, we expect significant deals involving international players imminently and this, combined with eager investors who are unable to source adequate stock in the core EMEA markets, should lead to significantly increased activity here.
Ends
For more information, please contact:
Orsolya Németh  
Cushman & Wakefield Tel: +3630 5091157
Notes to editors
About Cushman & Wakefield
Cushman & Wakefield is the world's largest privately‐held commercial real estate services firm. The company advises and represents clients on all aspects of property occupancy and investment, and has established a preeminent position in the world's major markets, as evidenced by its frequent involvement in many of the most significant property leases, sales and assignments. Founded in 1917, it has 253 offices in 60 countries and nearly 15,000 employees. It offers a complete range of services for all property types, including leasing, sales and acquisitions, equity, debt and structured finance, corporate finance and investment banking, corporate services, property management, facilities management, project management, consulting and appraisal. The firm has more than $3.7 billion in assets under management globally. A recognised leader in local and global real estate research, the firm publishes its market information and studies online at www.cushmanwakefield.com/knowledge.