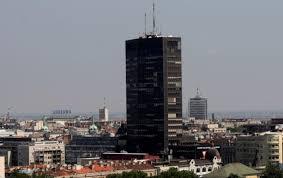 Marera Properties, one of the largest companies on the commercial real estate market in Serbia, will be the new owner of the business tower "Palace Belgrade", known as "Belgrade Woman". As part of the public bidding procedure conducted by the City of Belgrade, the subsidiary company Marera Properties made the best offer and is now in the process of concluding a sales contract.
The acquisition refers to the office space in the "Beograđanke" tower, and does not include the retail facility located next to the tower. It is close to 20,000 square meters, which definitely confirms its leading position in the office space segment in the center of the capital.
Since 1974, when it was built, the "Palace of Belgrade" has not undergone any significant reconstruction project. The company Marera Properties has committed to an additional investment worth eight million euros, and that it will carry out works on the facility within three years.
- We are absolutely aware of the fact that the woman from Belgrade is one of the landmarks of our capital. With maximum responsibility but also enthusiasm, we will enter the reconstruction project. We really have a rich experience in this field, including the renovation of cult architectural buildings. The best example known to the public is the reconstruction of the former Beko hall, today the Kalemegdan Business Center, done in cooperation with the Republic Institute for the Protection of Monuments. The woman from Belgrade was once the most modern building in the country, and our plans are to restore that status through innovative design and adaptation to current trends in architecture and business interior design. We are sure that the city administration and our fellow citizens will be able to be proud of the result together with us - said Milana Srećkov, director of the company Marera Properties.
"Palace Belgrade" will open its doors to the business community after the reconstruction. Tenants will have at their disposal attractive office space in a prestigious location, made to the highest standards and adapted to the modern business concept.
Source: Telegraph Business