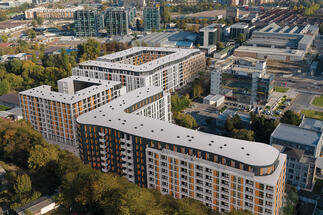 Stambeno poslovni kompleks NEW MINEL residence & office, na Novom Beogradu formiran duž ulice Tošin Bunar, nazvan je simbolički oslikavajući potez prethodnog fabričkog kompleksa u istom urbanom potezu.
Teritorija na kojoj se nalazi kompleks NEW MINEL residence & office tretirana je kao jedinstvena prostorna celina i prostire se na skoro 4 hektara površine zelene oaze. Ona je funkcionalno obrađena blokovskim uređenjem podzona, te razlikujemo prema svom položaju u odnosu na frekventnu saobraćajnicu Tošin bunar dominantno poslovanje a sa druge strane uz lesni odsek, zelenu mirnu stambenu zonu.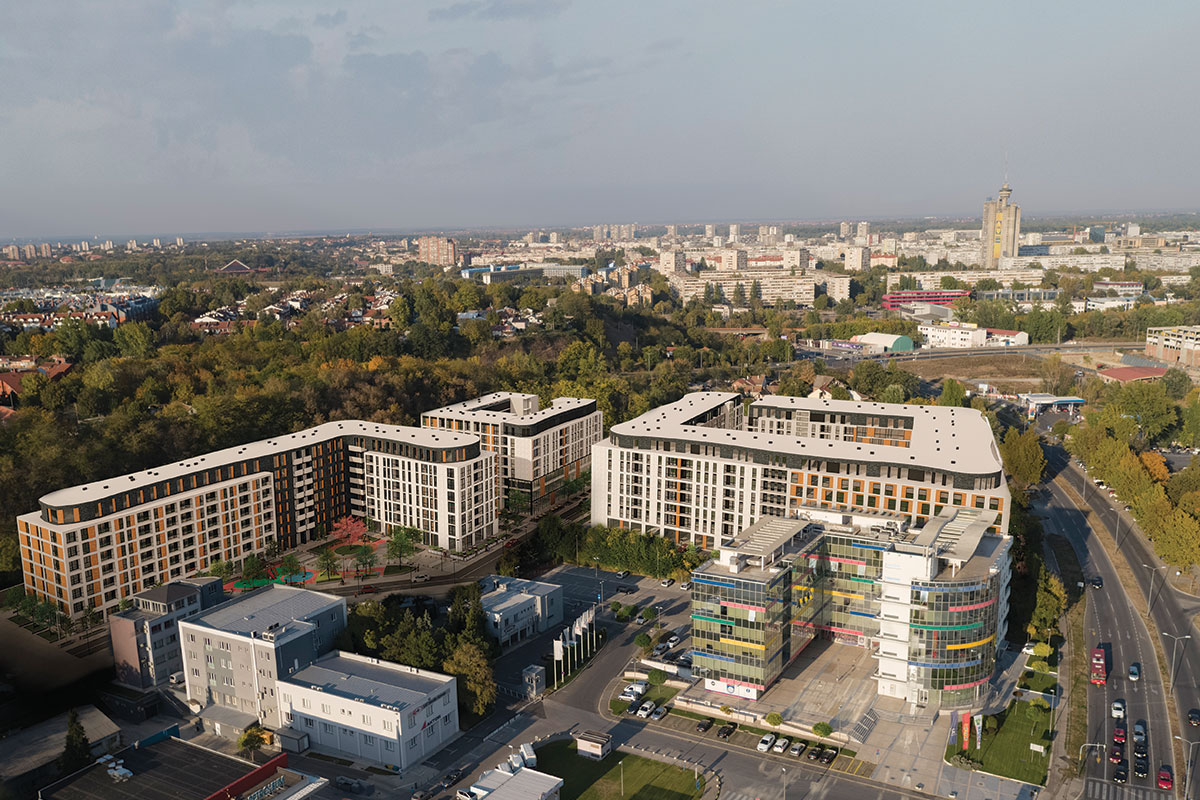 Stambeno poslovni kompleks NEW MINEL residence & office / Galens invest
Kompleks NEW MINEL residence & office projektovan je u duhu našeg dosadasnjeg izvođačkog i investicionog iskustva u kreiranje urbanističkih zona za humano stanovanje većeg broja budućih stanara.
Pozicioniran na gradskoj komunikaciji u vidu ulice Tošin bunar, u središtu Novog Beograda, dela grada sa brzim stepenom razvijanja i urbane transformacije. Lokalitet kompleksa odlično je povezan sa auto putem, aerodromom i ostalim delovima Beograda. Stambeno poslovni kompleks sačinjen je od 3 blokovske postavke slobodnostojećih zgrada, sa bruto građevinskom površinom od preko 120,000 m2.
Stanovanje u kompleksu organizovano je u preko 550 stambenih jedinica različitih struktura i orjentacija, dok je parkiranje rešeno u potpunosti na nivou kompleksa i to u dva nivoa podzemnih garaža sa po dva ulaza i izlaza, sa preko 1000 parking mesta, na površini većoj od 30.000m2 garažnog prostora. Svi stanovi su odlične orijentacije prema ulici Tošin bunar ili prema Bežaniji sa pogledom na zelenilo. Svaki stan je pojedinačno odlično osvetljen i prirodno provetren.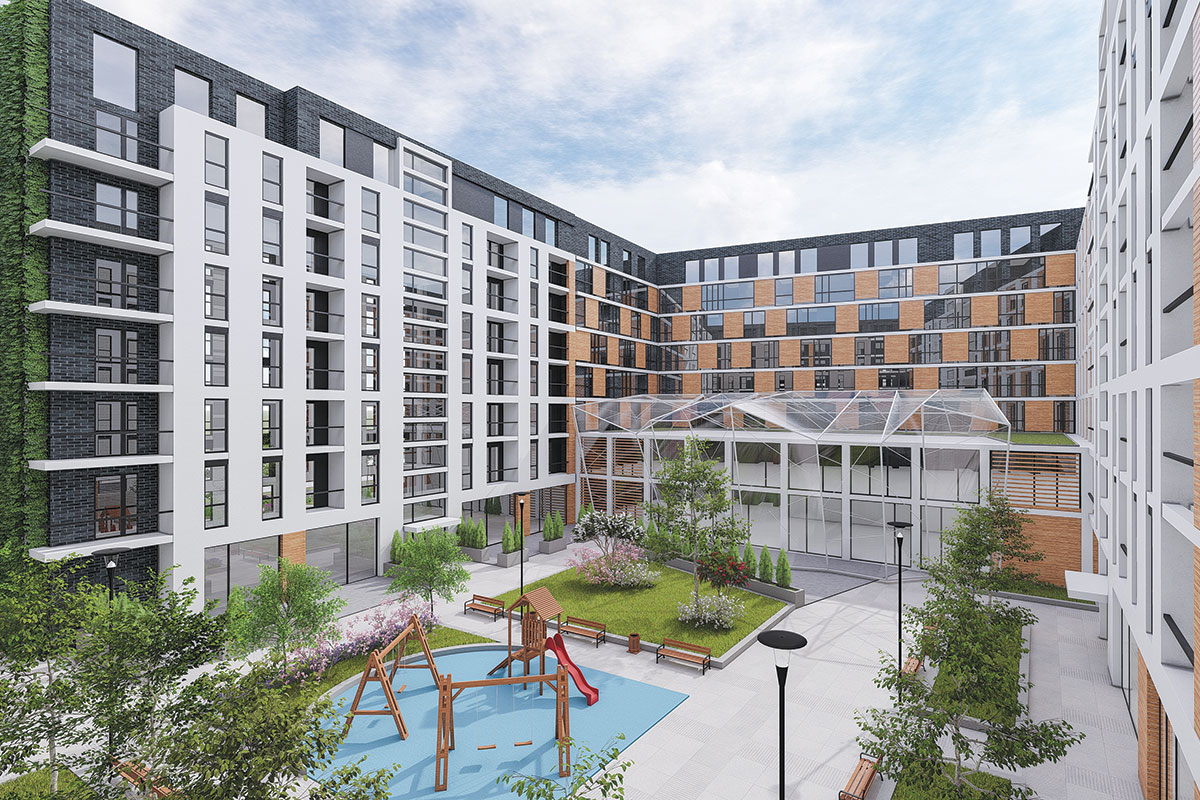 Stambeno poslovni kompleks NEW MINEL residence & office / Galens invest
U kompleksu su planirani sadržaji za sve starosne generacije, sa dečijim depadansom, vrtićem i igraonicom, mnoštvom lokala uslužne, ugostiteljske i komercijalne namene, sa organizovanim sportskim i rekreativnim programima u zatvorenim ili poluzatvorenim prostorima. Stambeni deo kompleksa orjentisan je ka dubini urbane celine, ka zelenoj oazi brda ka Bežanijskoj kosi, sa formiranim platoima i prostorima oko zgrada, urbano uređenim i opremljenim za prolazak ili boravak na otvorenom i okupljanje.
Poslovni deo kompleksa orjentisan je prema samoj ulici Tošin bunar, sa planiranom izgradnjom Hotela, sa svim hotelskim sadržajima u sklopu kojih je planiran bazen, spa centar i pripadajuća rekreacija u celini hotela ili kao zasebna celina, kancelarijskim sadržajima, poslovanjem i pratećim sadržajima usluga, ugostiteljstva i komercijalnih i sportsko rekreativnih namena.
Za sigurnost kompleksa predviđeno je 24 časovno fizičko-tehničko obezbeđenje organizovano kroz planiranu property I facility sluzbu koja će brinuti o svim aspektima NEW MINEL residence & office kompleksa.
Zgrade su osmišljene u arhitektonski modernom, ali razigranom izrazu sa naglašenom fenestracijom i kompozicijom lođa i balkona. Poslednje etaže su uvučene i zatalasane oslikavajući simboliku pozicije objekata, a i samog dela grada uz dve velike reke i njihove prirodne obline.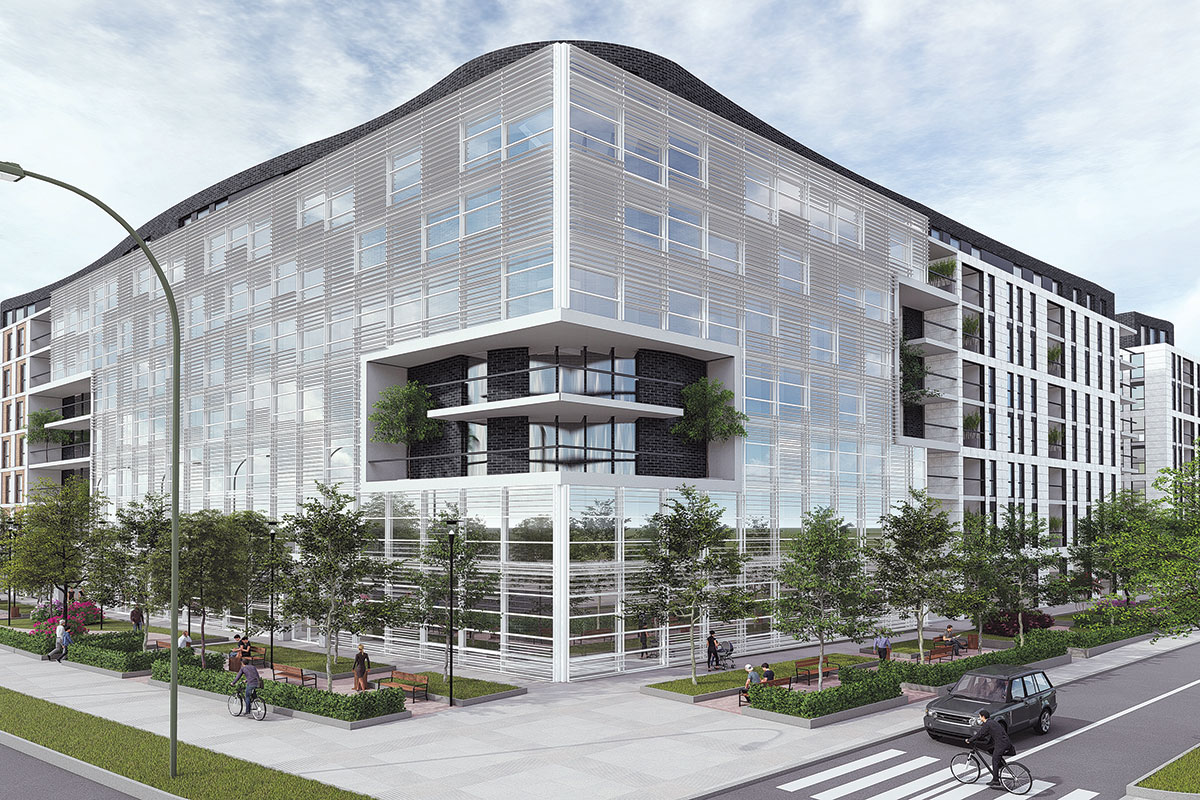 Stambeno poslovni kompleks NEW MINEL residence & office / Galens invest
Materijalizacija pojedinih delova objekata, sa postojanim prirodnim materijalima, oslikava njihov karakter i arhitektonski program. Kompleks je zamišljen kao poluzatvorena celina sa svim potrebnim elementima za život.
Na novom Beogradu, sve popularnijoj lokaciji za stanovanje, ušuškan u zelenoj oazi brda ka Bežanijskoj kosi, uz mir, zelenilo i pešačke staze sa jedne i neposredne blizine ključnih mesta i institucija, školskih, zdravstvenih ustanova, šoping centara i prostranih bulevara sa druge strane, svojim budućim stanarima pružaju komfor, sigurnost i luksuzan enterijer koji su idealni za život porodica sa zahtevnim dnevnim obavezama. Zaokružujući prostor protkan bogatim poslovnim, zabavnim i rekreativnim sadržajima, NEW MINEL residence & office, kondominijum koncept pruža privatnost, sigurnost, udoban i kvalitetan život svojim budućim vlasnicima.
Već od svojih prvih objekata, kompanija Galens invest postala je prepoznata kao moderan sistem posvećen stvaranju novih prostora u kojima život dobija dimenziju dostojnu potreba savremenog čoveka. Tim mladih iskusnih profesionalaca dokazao je da inovativne ideje mogu postati stvarnost, unapređujući ukupnu urbanu sliku Novog Sada projektima poput Pupinove palate, Kraljevog parka i Kej Garden Residence.
Visok nivo profesionalnosti, primena najsavremenijih standarda kao i fleksibilan i neposredan pristup prilagođen potrebama klijenata, zaslužan je za to što projekti kompanije Galens invest ne samo da postaju prihvaćeni od strane društva, već bivaju prepoznati kao primer dobre prakse.
(izvor: grenef)