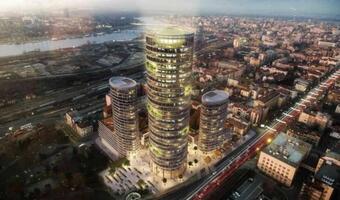 Kula Belgrade, within "Belgrade Waterfront", with 168 meters, should be the future highest building in the capital, and on this side of the Sava, "Skyline", which will be "only" 130 meters in the street Kneza Miloša.
The high buildings, however, will mostly be in New Belgrade, in blocks 42 and 65, then at the hotel "Jugoslavija", on Usce, as well as the upgrade of the current "Airport City".
KULA BEOGRAD
It will not be as high as 220 meters as it was originally planned, even though its shape has been slightly changed, but still with 168 meters, Kula Beograd is located within the project "Belgrade Waterfront", and will be the tallest building in the Serbian capital and even beyond.
The foundations are set, it remains to be seen when it will finally go to the height.
SKYLINE BEOGRAD
At the site of the building of the former Federal Ministry of Interior building "SKYLINE Belgrade", a modern residential and business area with three towers, of which the central be high will be almost 130 meters high, and two less than 64 and 77 meters. These are Israeli investors.
AIRPORT CITY
In the framework of "Airport City" in New Belgrade, it is planned to build two towers of 20 and a slopes that will give a special stamp to this part of the capital, but also to the complex itself.
The total gross construction area of ​​both towers is 75,000 square meters, with 28,000 on two underground floors.
WEST 65
Within the Vest 65 complex, in the building block 65, the construction of a tower, which should be as high as 40 floors and 150 meters high, was planned (initially, it was planned "only" 33 floors and 140 meters).
In this settlement, the apartment also bought - Novak Đoković.
UŠĆE 2
Tower of Novi Sad in Novi Beograd next year will receive a twin. The construction is in progress, which can be seen by all who pass through this part of New Belgrade.
The project of domestic investor "MPC Properties" is worth almost 65 million euros, and it foresees raising a tower of 22 floors, a tall little more than 100 meters. Completion is foreseen in 2020.
MERIN TOWER
Probably the least known project to Belgraders. It is about 100 meters high, planned in New Belgrade Block 42. The hand to heart is much less like a tower on the project, and much more on an attractive wardrobe.
Mostly it should have a residential purpose, and it is not excluded that one part of it will be a hotel.
HOTEL YUGOSLAVIA
The project, which has been announced for years, has so far remained only on paper and, in reality, of all these towers will be most difficult to achieve.
As the former city planner Milutin Folic announced, both towers should have 33 floors, and the works were planned for 2016.
(Source: Informer.rs)