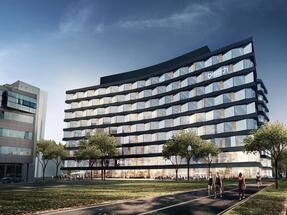 GTC Group is a leading investor in commercial real estate with more than 25 years of experience. We have developed 76 Class A business premises projects and commercial centers with a total area of ​​1,300,000 m2 in Central and Eastern Europe.
Currently, GTC is developing about 400,000 m2 of modern office space in the capitals of Central and Eastern Europe.
In Serbia, GTC has been present since 2004, has gained the status of an investor who follows the trends in the field of business space development, highly values ​​the environment by applying the highest standards of green building and has a team of employees who skillfully meet the requirements of its tenants. The last built Green Heart facility is especially recognized on the market as a completely different business environment filled with greenery, where each office has a terrace which allows employees a much more pleasant stay.
In September 2022, GTC will deliver to our market a new Class A business facility, GTC X with a total rental area of ​​17,000 m2, which is designed from ground floor to eighth floor to meet the highest standards of modern business. It is located in the very center of the Belgrade business zone, in Milutina Milankovića Street in New Belgrade. With a specific architectural idea in the design of the building, with a broken facade and the intersection of two tracts in the base in the shape of the letter X, optimal natural lighting of the work space is created. On the ground floor there will be an attractive hall with double height, a restaurant and a business space. On eight floors is a modern business space, flexibly designed to provide a functional space of high quality and comfortable working and living conditions for its users. Parking needs are solved on three levels of the underground floor with 330 parking spaces.
The interior of the building is designed in the concept of modern architectural expression, with the use of modern forms, materials and colors. It will be characterized by high quality finishes with a floor height of 2.80 m, raised floor, highly efficient floor coverings, personalized design, but also the ability to organize space and interior design to be fully adapted to the needs and specific requirements of the tenant. The design is signed by the Austrian architectural firm Atelier Thomacs Pucher, which was also engaged in the design of the GTC Green Heart complex.
Project X, like all previous GTC projects, has been designed and will be executed in accordance with the prestigious GOLD LEED certificate, an internationally recognized certification program for the construction of energy-efficient facilities.
source: eKapija.rs