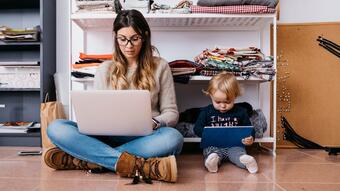 When the American technology giant found himself in a situation where he had to send his employees to work from home four months ago, Microsoft realized that they could learn something from that experience, because it turned out that meetings are more frequent, but shorter, longer working hours. , more work in the evening ...
They followed how people behave, how teams work, and how to use all this to help people and make it easier to work in the new environment.
Through various tools and additional anonymous surveys, they came up with interesting data on work from home, which was published in the Harvard Business Review.
It turned out that the number of meetings and their total duration was increasing, but that individual meetings were increasingly shorter than 30 minutes. Shortening meetings, they say, is a reversal of a long-standing trend in business.
The flexibility of scheduling meetings led to them being held more often in the afternoon, and the working day became fragmented as people had to balance between private and business time.
And when it comes to working hours - it has moved to the "new third shift". The increase in activity between 6 pm and midnight was at the level of 52 percent, and the boundaries between working hours and breaks, and weekends, were additionally "blurred" if not erased.
Finally, this led to an average of longer working hours that people "gifted" to the company - lasting an average of four hours a week.
The reason for that is that the employees took part in the working hours to perform various private tasks, and in order to compensate for that, they had to get up earlier or finish the working day later than usual.