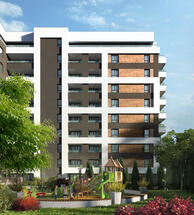 If you are also looking for a new property in Belgrade, whether you want to move or invest your money, we will present all the advantages of a condominium - a modern way of living that has become very popular in the world.
Do you know what a condominium is?
It is a closed complex that has a reception and constant professional security at the entrance. The entrance is by card, and the fact that video surveillance is also provided non-stop also contributes to security. Therefore, entry is only possible for tenants and guests they announce.
The condominium differs from other residential complexes in that it has a whole range of common facilities that are also available exclusively to tenants: green areas and a park, playgrounds for children, outdoor gym, space for pets. All listed facilities have professional maintenance, so they are always correct, clean and ready to use.
Which condominium is the best in Belgrade?
Officially, the best residential complex on the Serbian market is a condominium, the first in New Belgrade - Wellport.
Reputable magazine CIJ has been awarding prizes to the most successful participants in the real estate market for five years in a row, and this time the well-deserved winner is Wellport. Prizes were awarded in 17 categories, and the best were selected through online voting, and an independent jury of participating companies.
Why is Wellport the best?
There are many reasons why Wellport stands out in the real estate market in Serbia, not only in Belgrade. First of all, it is designed to satisfy even the most demanding customers by providing them with comfort, safety, a modern concept of life, a prestigious location.
With its architecture, choice of materials and method of construction, it covers high aesthetic and environmental aspects, and thus meets the needs of a dynamic life of business people, families, young people who are just beginning their independent life, but also those who enjoy their retirement days.
Premium quality of construction, equipment that is in line with the most modern technologies and energy efficiency requirements, as well as top quality of finishing works, also contribute to the exclusivity of Wellport.
The curiosity of the project, behind which stands the Israeli investor Shikun & Binui Group, is that it is exclusively residential. So, no shops and stores, no casual passers-by who come there just to do shopping or something.
Where exactly is Wellport located?
It is located in New Belgrade, which in recent years has been said to be the new city center.
In the immediate vicinity are rivers, green areas, promenades, bike paths, but also offices of large domestic and foreign companies, schools and colleges, cultural institutions, shopping malls, restaurants and cafes.
Wellport is positioned to provide its residents with everything they need for a modern and comfortable life, while at the same time being separated from the city noise and bustle, tucked away so that they have their own peace and privacy.
Source: seebiz.eu