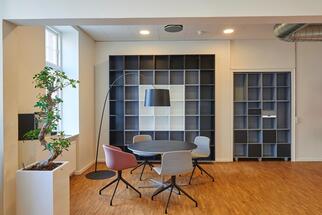 Open space poslovni prostori
Jedan od trendova koji već nekoliko godina dolazi sa Zapada i uopšte iz inostranstva, jesu open space prostorije koje su namenjene za poslovanje i rad različitih firmi. Za ovakav poslovni prostor izrađuje se kancelarijski nameštaj po meri. Jedna od stvari koje su učinile da upravo ovo bude ovoliko popularno jeste utisak da čak i male kompanije izgledaju daleko veće i moćnije, onima koji ne tako često dolaze da vas posete, a o načinima na koje se sve to može urediti ne mora se mnogo ni govoriti, jer je u svemu tome veoma teško odlučiti se šta je najlepše i najfunkcionalnije. Uz sve to, ovakvi poslovni prostori su veoma dobri za poboljšanje poslovanja i dobrih odnosa među zaposlenima, što i jeste bio jedan od glavnih razloga zbog kojih su nastali ovakvi načini uređenja kancelarija.
Minimalizam poslovnog prostora
Svi se veoma dobro sećamo kako je minimalisticki pristup uredjenja enterijera došao još pre nekoliko godina svuda, bez obzira da li se radi o uređenju doma, poslovnih prostora, dvorišta ili nečega sličnog. Ovom trendu i njegovoj popularnosti najviše su doprinele društvene mreže, pa se ujedno ovakv trend preneo i na modnu scenu. Otkad se pojavio, pa sve do sada, a tako će sigurno biti i dalje, minimalizam je savšen kao trend dag a upotrebite za svoje poslovne prostorije, koje će nakon uređivanja odisati profesionalnošću, ozbiljnošću, a svakako i veoma dobrim ukusom.
Kancelarijski nameštaj po meri
Bez obzira na to da li partite trendove kada je u pitanju uređenje poslovnog prostora ili jednostavno partite neke svoje želje i prohteve, ono šta vam je sigurno potrebno jeste izrada kancelarijskog nameštaja po meri. Šta god da opremate, koji god deo svoje firme ili firme u koj radite, kancelarijski nameštaj po meri će učiniti da na najbolji način iskoristite potpuno prostor koji vam je dat u tom trenutku, jer će sve biti napravljeno apsolutno prema potrebama i mogućnostima tih prostorija.
Kancelarijski nameštaj po meri je najbolje rešenje, baš kao kada za svoj dom radite plakare, kuhinje, jer možete da ispratite na taj način u potpunosti ono šta vam je potrebno, šta odgovara vašem stilu i ukusu, ali i da ispratite na najbolji način svaki zid kancelarije, svaki ćošak ili neki drugi njen deo, jer ćete na kraju dobiti prostoriju koja će prvo vas, a onda i sve druge sasvim oduševiti i biti prijatna za rad i boravak u njoj.
(izvor: soko)