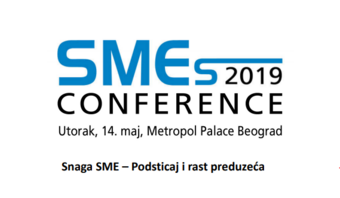 TGI Group International is the organizer of the conference, and sponsors are Serbian Chamber of Commerce, Union of Employers of Serbia, Association of Business Women of Serbia, Serbian Association of Small and Medium Enterprises and Confindustria Serbia.
At the SMEs2019 conference, PhD Kosta Jovanović, Assistant Professor, Vice-Dean for Economic Cooperation at the Faculty of Electrical Engineering, University of Belgrade, will hold a presentation on "Financing SMEs in the field of Innovative Robotics - DIH2 and DIH-HERO Project" which will provide a direct and clear insight into possibilities SMEs can get funding from the fund within the current project.
Among the speakers and panelists are Katarina Obradovic Jovanovic, Assistant Minister, Ministry of Economy of Serbia, Sava Savic, Assistant Minister, Ministry of Labor, Tourism and Telecommunications of Serbia, PhD Dejan Ilic, President of the Board of Directors, Innovation Fund, Zoran Martinovic, Director, National Service Dubravka Negre, Regional Representative of the European Investment Bank for the Western Balkans, Dejan Vukotic, President of the Executive Board, Serbian Export Insurance Agency and AOFI, Dr. Sanja Popovic Pantic, President, Association of Business Women of Serbia, Nebojsa Atanackovic, honorary President of the Employers Union of Serbia, Goran Križ, Economic Advisor, Embassy of Slovenia in Serbia, Daniela Zlatić Sutić, Head of Educational Information Center, Intellectual Property Office, Veselin Dragičević, Secretary of the Association of Small and Medium Enterprises and Entrepreneurs, Chamber of Commerce of Montenegro, Lorena Macura, vice president, SEAF; Kemal H. Balihodzic, founder and director, UpTrend Marketing Solution, London UK & Sarajevo BiH, Zoran Tadic, Director, Neofyton, Dr Jasmina Knezevic, Owner and Director, Bel Medic. Moderators of the conference panels are Aleksandar Međedović, member of the Executive Committee of the Turkish-German Chamber of Commerce; prof. Dr Dragan Loncar, Professor at the Faculty of Economics in Belgrade and Mirko Radonjić, Editor-in-Chief of eKapija.
The SMEs 2019 Conference reviews the challenges in the business environment and ways to overcome them and facilitate business operations and processes, and how to create new opportunities for the small business sector in order to achieve growth and improve overall economic status in the country and the region. The aim of the conference is to provide an adequate platform for discussion among all stakeholders including representatives of the Government, experts and analysts, representatives of companies from Serbia and the region, as well as representatives of the media. Discussion on issues of relevance to the MSPP sector will deal with day-to-day challenges in various aspects of business, legislation, financing, tax policy and digitization, as a means of innovating business operations.
Topics of the conference:
Future of small and medium-sized enterprises: how to secure financing and how to facilitate the way for new ventures A new field for entrepreneurship: start-up and innovators The world is not enough - to expand business beyond the borders Digital factor - Influence of IT, industry 4.0 and automation on SMEs Sales and marketing experience - how to target audiences
Contact for more info and registration:
TGI Group International: Aleksandra Novaković, tel +381 11 3032235; mobilni tel. +381 65 3032236; email: [email protected]