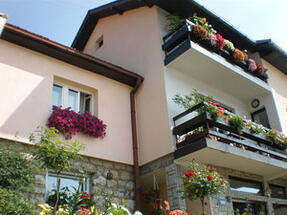 Due to specific features, the Commission for plans of the City of Belgrade decide to develop the Detailed Regulation plan in two stages, At the moment, the second part of the plan has been at public inspection , which comprises 11 ha, between Crnotravska, Bulevar oslobodjenja (former bulevar JNA), Beranska, Borska and Kaljavog potoka streets.
Urban analysis showed that maximal options were not exploited in line with the General urban plan (GUP) of Belgrade by 2021, and that, in line with that, additional construction of residential and business units is possible.
The settlement is featured with specific natural area features. At the territory planned for collective residential construction, houses were illegally built. The location across Tehnogas (between Borska and Plitvicka streets) is undeveloped area with huge terrain delevelling and partially initiated landslide. The settlement is partially equipped with additional utility infrastructure but a large number of facilities is not connected to the city sewerage network. The existing number of citizens here is 560, and the number of flats 180. Some 2400 citizens were planned at this area.
Development of DRP will enable planning of new residential and business facilities along the Borska street, as well as to rehabilitate illegal construction of individual residential units. Apart from that, options for construction of sports facilities near the Technogas complex were defined.
This location is surrounded with greenery – Banjicka suma is near, Banjički vis and Manastirska suma as well On the south, there is the Jajinci settlement and Tehnogas complex. 
The complex is split in three units: zone of individual residential units je (floor P+1+Pk), comprising 4 blocks – 4,98 ha, sports facilities zone (1,57 ha) and zone of small production sections (0,25 ha). 
It was planned that residential zone has maximal 72.680 m2, 20% maximal of which can be used for office space. Maximal area of sports facilities is up to 12.560 m2, and up to 3.700 m2 of production section.
When it comes to public facilities, only construction of the kids' combined institution was planned in this part of Banjica.
In the zone of construction of individual residential units, minimal size of the lot is 300 m2. Every construction lot must have provided access for public traffic areas, directly or indirectly through an access road as well as connection to the infrastructure network.
The existing facilities within the construction zone are possible to keep with an option of superstructure up to maximal parameters. If the existing facilities are partially or completely outside the construction zone, they cannot be superstructure but only technical maintenance and rehabilitation is possible.
Sports courts, halls,…
DRP defines the potential construction of outdoor sports facilities as well as sports halls. If facilities present a functional hall ( a sports hall, physical therapy, trade and catering), further partial expansion of sports zone is possible.
Reconstruction of traffic connection towards Technogas to planned road of Banjicki put is planned.
According to GUP of Belgrade by 2012, Borska street which hits the subject area, will become the main road, Other streets as well as in the existing condition, will remain the part of the secondary street network.
When it comes to public transport, exiting bus lines along the Borska street with the existing stops are planned.
Source: eKapija.com