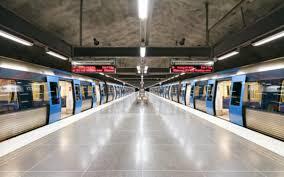 The agreement was signed by Serbian Finance Minister Sinisa Mali and French Foreign Trade and Economic Promotion Minister Frank Riester.
The agreement includes a project to build a subway in Belgrade and a project to improve and increase the efficiency of the electricity distribution network in Serbia, Mali said.
The value of the agreement is 581 million euros, of which 127 million euros are intended to improve the efficiency of the electricity distribution network, while 454 will be invested in the construction of the first metro line, said Mali.
"The project of building the subway will start at the end of next year, from Makiško polje, and the line will go through the city center to Mirijevo," said Mali.
France supports Serbia's European integration, Rister said, adding that the country's companies in Serbia employ 12,000 people.
"It is the wind in our sails that carries us forward," he stated and added that the attitudes and interests of the French business community do not change and they believe in Serbia and its economic future.
The construction of the Belgrade metro is a symbolic act for the modernization of Belgrade and a sign of the modernization of the whole of Serbia, said Rister and announced that a feasibility study will be completed next year.
After signing the agreement, the Minister of Finance talked with the representatives of the French company Alstom about the construction of the subway in Belgrade and announced that a Memorandum of Understanding, which would formalize the cooperation between the French and Chinese sides on that project, could be signed in January 2021.
Vučić: Metro is a question of prestige and strength
The President of Serbia, Aleksandar Vučić, assessed that the construction of the subway is not just a way to solve traffic jams, but it is a matter of prestige, strength of one city and state, adding that he is "grateful to French friends for doing joint work in the interest of both countries."
"I thank the President of France, Emanuel Macron, who supported the Serbian people, showed the real emotion of the French people towards Serbia, to understand it when we do not think the same on certain issues," Vucic said after signing an agreement between Serbia and France on priority projects in Serbia. primarily the subway in Belgrade.
We expect more significant progress of Serbia on the European path in the next half of the year, said Vučić, stating that Serbia will complete some of the most important reforms this or in the first half of 2021.
Vucic said that during the pandemics, Serbia managed to maintain an average salary in Belgrade of 628 euros, and 510 euros is the average salary for Serbia.
"We have a big job ahead of us to start the official construction works, that is a very important line for us and the modernization of Belgrade," he said, adding that today's agreement is a new confirmation of French-Serbian friendship.