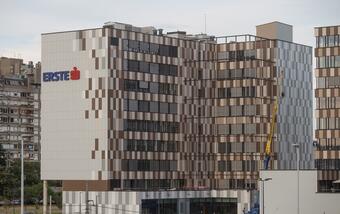 BELGRADE (Serbia), February 20 (SeeNews) - The office space vacancy rate in Belgrade stood at 5.4% in the fourth quarter of 2017, slightly lower than 5.6% recorded in the previous quarter, real estate consultancy Jones Lang LaSalle (JLL) has said.
The vacancy rate in Class A office buildings dropped slightly and stood ad 4.9%, while in Class B office buildings it increased to 5.9%, JLL said in a Belgrade Office Market Q4 2017 report published on Monday.`
During the last quarter of 2017, new supply slowed down and no new office buildings were delivered to the market. During the year, the overall stock increased by 6%, which is slightly lower than the recorded activity in 2016, JLL noted.
However, the second half of the year was marked by the delivery of the first phase of Sirius Offices by ErsteGroup Immorent, totalling over 14,500 square metres in New Belgrade. The company also announced the construction of the second phase of the project, which will spread over 10,000 square metres.
Positive market trends, including the growing construction activity, are expected to continue in the upcoming period. The majority of construction activity will remain focused in Belgrade, yet growing interest from developers for major secondary cities has been noted as well, JLL said.
MPC has announced the construction of Usce Tower 2. The project is announced for completion in 2019 and will add 22,000 square metres of modern office space. GTC has presented its new office project, GTC X which will spread over 17,000 square metres. Furthermore, AFI Europe has presented another landmark project, Skyline Belgrade, totalling over 68,000 square metres out of which around 30,000 square metres will be office space.
In late 2017, prime office rents in Belgrade slightly dropped and as of the last quarter of the year they ranged from 15 euro ($18.5) to 16.5 euro per square metre monthly.
Rental levels for Class B office premises in New Belgrade remain stable, ranging between 10 and 13 euro per square metre monthly and 10 to 12 euro in the city centre, according to the report.
- See more at: https://seenews.com/news/belgrades-office-vacancy-rate-at-54-in-q4-602397#sthash.gvRKVbY3.dpuf