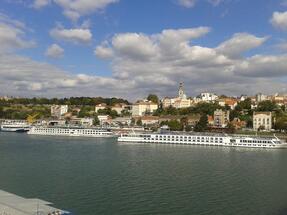 Gradonačelnik Beograda najavio je da je u planu puno projekata u Beogradu i, između ostalog, naveo izgradnju dva mosta i dva tunela.
- Planiramo izgradnju dva mosta i dva tunela. Prvi je Novi savski most, koji će se raditi iz dve faze. U prvoj će biti premešten sadašnji most, a u drugoj izgrađen novi. Vrednost projekta je 45 miliona evra - rekao je Radojičić
Finansije u gradu Beogradu su stabilne, ekonomska situacija je uravnotežena i to je dobar signal investitorima da je glavni grad Srbije dobro mesto za investiranje, izjavio je gradonačelnik Beograda Zoran Radojičić koji je otvorio prvu plenarnu sesiju na Trećem forumu gradonačelnika glavnih gradova zemalja Centralne i Istočne Evrope i Kine (16+1).
- Beograd je jedno veliko gradilište. Imamo investitore iz Kine, arapskih zemalja, Izraela i zapadne Evrope što govori da se sve više investira u Beograd - istakao je tada Radojčić.
Naveo je da je jedan od naših najvećih projekata "Beograd na vodi" i dodao da je ta investicija vredna 3,5 milijardi evra, te da je plan da bude izgrađeno dva miliona kvadrantih metara poslovnog i stambenog prostora.
Ilustracija (www.pixabay.com)
Podsetio je da je u prethodnom periodu urađen Pupinov most i dodao da se trenutno radi obilaznica oko Beograda što, dodao je, rade kineske firme.
Gradonačelnik je istakao da je posebno važna izgradnja srpsko-kineskog industrijskog parka u Borči što se, kako je dodao, očekuje da će početi već sledeće godine.
- To je izuzetno značajan projekat za Beograd i očekujemo da će značajno doprineti razvoju privrede Beograda - dodao je.
Govorio je i o izgradnji metroa, navodeći da se Beograd razvija velikom brzinom, da je saobraćaj veliki problem, te da je metro jedan od načina da se taj problem reši.
Podsetio je da je plan da 2020. godine počne izgradnja prve linije beogradskog metroa.
- Kineske firme imaju veliko iskustvo u ovoj oblasti i zato očekujemo da će se javiti na tender kada bude bio, a s obzirom da će se naša komisija truditi da izabere najiskusnije, najbolje, najpovoljnije, verujem da će kineska firma imati veliku šansu - rekao je Radojičić.
Naglasio je da je u planu puno projekata u Beogradu i, između ostalog, naveo izgradnju dva mosta i dva tunela.
Jedan tunel će spajati Karađorđevu ulicu sa Bulevarom despota Stefana, a drugi je Topčiderski tunel, precizirao je gradonačelnik.
(izvor: gradjevinarstvo.rs)