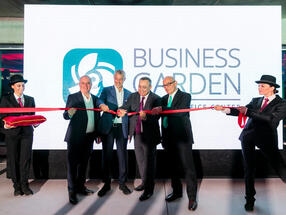 During this informal gathering, the guests had a chance to get acquainted with all the benefits this unique, hi-tech office building located at the corner of Starine Novaka and Kneza Danila streets has to offer. The very first tenants have already moved into the building at the beginning of May.

After the tour of the building and a virtual presentation, the guests were addressed by Managing Partner and the event host Gili Dekel, who spoke of all the amenities Business Garden offers to current and future tenants. The guests also had a chance to hear from the Deputy Mayor Goran Vesić and Ambassador of the State of Israel Alona Fisher-Kamm.

– With pride, I present Business Garden project to you. With this development, Serbian capital has gained yet another unique modern office building at a prestigious downtown location. Large international companies have already chosen to move their headquarters to Business Garden, thus we expect the tenant occupancy rate of 100 percent by the beginning of this fall. The considerable interest of potential tenants does not come as a surprise, taken into consideration the numerous benefits and amenities this office building has to offer. One of these added values is the fact that Business Garden is one of the few LEED certified buildings in Serbia. Great connections to all important institutions and arterial roads, as well as flexibility and opportunity to adapt the working premises to the needs and corporate values of tenants will contribute to the greater business results of companies headquartered at Business Garden. We should not forget about the underground employee parking with 220 parking spaces, which is a rare and important advantage in downtown Belgrade – Managing Partner Gili Dekel stated at the occasion.

Companies AFI Europe and Shikun & Binui Group have been operating on the Serbian market for a number of years now and have developed several projects, such as the first and the only business park Airport City Belgrade, condominiums Central Garden, Vozdove Kapije and Wellport, and the multifunctional complex Skyline Belgrade, which is currently under construction. The exclusive leasing representative for this new office building in downtown Belgrade is the leading real estate consultancy in Serbia - CBS International, which is a part of the Cushman and Wakefield Group.
(Source: eKapija)