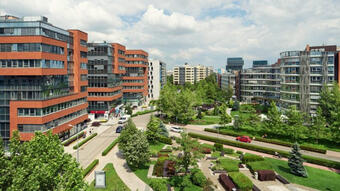 The change responds to the need for more quality, modern, and vibrant urban spaces in Sofia and aspires to create a good example in line with the global trends for sustainable and inclusive urban development. A partner in the long-term transformation is the team of urban activists from the Collective Foundation, who plan various collaborations between experts, artists, and citizens to develop the park and its surroundings, create new green and active public spaces, and attract more visitors and citizens from all over Sofia.
The business park employs over a thousand people, and more than 100 thousand residents of Sofia live around it in the district of Mladost, which is the youngest neighbourhood of the capital city.
The majority of the tenants and occupants of the offices and surrounding areas agree that they support the transformation of the Business Park and would like to see more green spaces for outdoor work, and more diverse events, sports, and culture. Based on the feedback from interviews and surveys, the team is developing a new plan for the office complex, with more greenery, outdoor venues, new art venues, and a huge rooftop area for dining, recreation, and events.
Historically, Business Park Sofia has been the largest business area in the Balkans since 2001. The complex includes 15 Class A buildings on a terrain of 220,000 sqm with a total built-up area of 300,000 sqn, employing over 10,000 people from many international companies.
Source: Property-forum.eu