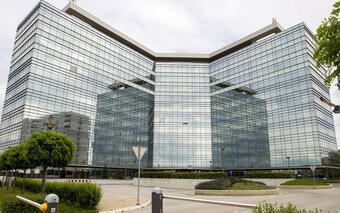 GTC Group, one of the leading real estate investors in Central, Eastern and Southern Europe, has begun work on the construction of another business facility on Milutin Milanković Boulevard in New Belgrade. The GTC X, it is said, will feature a specific architecture signed by the Austrian Atelier Thomas Pucher, who was also engaged at the GTC Green Heart complex.
Milutin Milanković Boulevard is an extremely popular location for investors, and there is already 200,000 square meters of office space of the highest category.
GTC X is a business facility with a total area of ​​17,000 square meters, which is designed from the ground floor to the eighth floor to meet the highest standards of modern business.
On the ground floor there is a conference hall and a restaurant, and on eight floors there is a modern business space, designed on the principle of "open space" to ensure flexible and functional space of high quality, as well as comfortable working and living conditions for its users.
The underground garage on three levels has 330 parking spaces. Completion of construction is planned for September 2022.
The investor of the facility, the international company GTC, has implemented numerous projects in Serbia in the past 20 years, such as GTC Fortyone and GTC Green Heart, which are located in the immediate vicinity of the future GTC X facility.