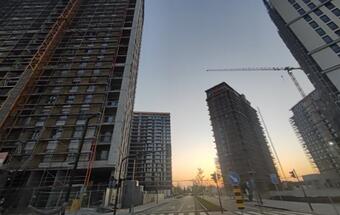 Three years ago, the average price was 1,613 euros, while, according to the latest data from the Republic Geodetic Institute (RGZ), for the second quarter of the current year, the average is around 2,304 euros. On the basis of sales contracts recorded in the RGZ, a square meter in the capital could be bought in the range of 600 euros on the outskirts of the city to 9,545 euros, which is the price paid for the most expensive apartment in Belgrade on the water.
In parallel with newly built apartments, the prices in old buildings also rose, so compared to 1,296 euros, the average square meter in old buildings reached a price of around 1,773 euros this year. The increase in prices was definitely dictated by huge demand, because this year in Belgrade a total of 630 more apartments were sold during the second quarter than in 2019.
Appraiser Milić Đoković from Real Estate Cluster says that apartments have become more expensive in the past three years, but that extreme examples further raise the average, especially those in the most popular locations, where the price per square meter goes up to 10,000 euros.
"Prices have jumped before, and now they are following the trend of retail price jumps. This is inflation through real estate. The prices of old apartments are rising more than new ones, and the reason is the halo effect, due to high demand. There is not enough new construction in Belgrade, no matter what it seems to us that construction is being done at every step, these are construction sites that are relatively small and the supply is still weak. The demand is so great that the price of old construction even overtakes the percentage increase in the price of new construction," says Milić Đoković.
The trend of rising prices was also noted in all major cities, so in Novi Sad, a square meter in an old building reached an average of 1,605 euros, which is about 300 euros more than last year and even 600 more than in 2019. New construction in Novi Sad has risen in price by 16 percent. compared to last year, it was necessary to allocate 1,560 euros per square meter of real estate in the second quarter, while the most expensive square meter in Serbian Athens was sold for 3,500 euros, writes Euronews.
In Niš, old construction is now more expensive by around 300 euros, while for a square meter in new buildings it is necessary to allocate around 400 euros more than three years ago. In the past year, according to RGZ records, old apartments in Niš have become more expensive than new ones. Those that have already had an owner are now about 20 percent more expensive, while the prices in new buildings are now about 11 percent higher. In Niš, the average price per square meter in both new and old buildings is almost equal and it costs around 1,000 euros. In this city, in the observed period, 294 old apartments were sold and only 174 new apartments, which indicates a weaker supply of new apartments, which is why the price of old apartments is rising at the same time.
Among the larger cities, Kragujevac has the weakest real estate market, and new construction even recorded a slight price drop of 3 percent in the second quarter compared to the same period last year. This is almost symbolic, because the average square meter cost 1,055 euros, and this year 1,022 euros. In the old building, a growth trend of about 13 percent was recorded, from 780 to 880 euros.
When it comes to Belgrade municipalities, the highest increase in the price of square meters in new buildings was recorded in Palilula and amounted to 24 percent. In this municipality, a square meter costs from 1,087 to 3,130 euros, while the average price is 2,447 euros. The most expensive square meter in a new building is in Savski Venec, where the average price is around 3,650 and in Stari Grad with 3,122 euros. In the central city municipalities, the prices of old apartments have almost equaled those of new buildings. In Vračar, the average square is around 2,400 euros for both.
"Everyone wants to build only in the most expensive locations, and land is a limited resource and there simply aren't enough areas for construction. The offer is weak, and everything else is old buildings, and it is normal that the price will jump. In locations where there is a resource that is impossible multiply, it is inevitable that the price will go up. This is the so-called inelastic demand, because there is not enough supply for the market," said Milić Đoković.
Prices are rising in all Belgrade oštinas. The square meter of a new building in New Belgrade is from 900 to 3,900 euros, and the average price per square meter based on all apartments sold in this municipality in the second quarter was around 2,568 euros. At Zvezdara it is slightly more than 2,000 euros, and at Voždovac around 2,100 euros.
Source: SEEbiz / Nova.rs