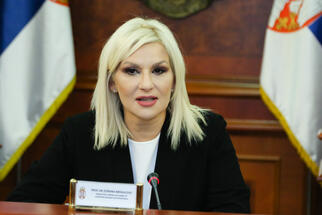 "Govorićemo o realizaciji projekata, o projektima koje već završavamo, to je Koridor 10 i Koridor 11, ali i o novim pojektima. Nas čekaju novi autoputevi, to je ono u stvari o čemu razgovaramo najčešće sa MMF-om", rekla je Mihajlovićeva za Radio-televiziju Srbije (RTS).

Ona je rekla da je ministarstvo kojim upravlja poslednje tri godine 98 odsto novca koji je opredeljen za kapitalne investicije trošilo upravo na te velike projekte.

"Ono što je bio problem u prethodnih desetak godina jesu mnogi kediti koji su nas sačekali, koji su bili uzeti i koji su počeli da se realizuju a za njih nije bilo projekata", rekla je Mihajlovićeva.

Po njenim rečima, očekuje se da efikasnost ostalih ministarstava u oblasti kapitalnih izdataka bude bolja.

Zorana Mihajlović je kazala da je rok za završetak obilaznice oko Beograda tri godine od početka radova, a kako je navela, moguće je da bude završena i ranije.

"Dugo su trajali pregovori oko obilaznice, žao mi je što neki prethodni mistri to nisu završili, jer bismo mi sada pričali o nekom trećem autoputu koji bismo radili...Biće to gotovo za tri godine", rekla je Mihajlovićeva i najavila da će radove kineske i azerbejdžanske kompanije na tom gradilištu obilaziti svake sedmice.

Ona je kazala da je Moravski koridor veoma važan, najavila da se Koridor 10 pušta u saobraćaj do kraja godine kao i 103 kilometara puta od Obrenovca do Preljine na Koridoru 11.

"Ministarstvo je poslalo na mišljenje memorandum sa američkom kompanijom Brehel, vrednost investicije je maksimum 800 miliona evra. Pregovarali smo dugo. Ono što će se dobiti ovim autoputem nije samo put, već i sređivanje korita reke", rekla je Mihajlović i dodala da će to dobra prevencija od poplava.

Po njenim rečima očekuje da sredinom sledeće godine počnu građevinski radovi, a za 2 i po godine bi trebalo da bude završen Moravski koridor.

Ona je ponovila da se 24 sata radi na saniranju Koridora u Grdelici, a da će do kraja godine biti moguće proći istočnim i južnim krakom Koridora 10.