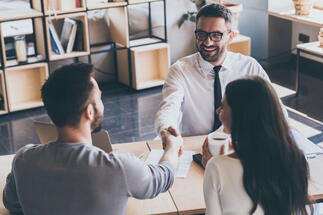 Velika migracija, povoljni krediti, sve veći broj stranaca, poreske olakšice koje kupci prvih stanova imaju (naročito povraćaj PDV-a), a i zabrana prodaje nekretnina koje su nelegalne doprineli su rastu tržišta nekretnina.
Na nivou Republike Srbije, prosečna cena stanova u novogradnji iznosila je 174.380 dinara po kvadratu (1.469 evra), a u AP Vojvodini 115.660 dinara (974,5 evra). Najtraženije lokacije su svakako centralne gradske opštine (Stari grad i Vračar), a najviše se kupuju stanovi u luksuznoj novogradnji čija cena dostiže i do 3500E/m2, što automatski utiče i na povećanje cena i starijih stanova.
Što se tiče izbora između starije gradnje i novogradnje, svakako vodi novogradnja, a zatim se najviše traže stanovi građeni 80-tih godina zbog kvaliteta gradnje.
Najtraženija kvadratura je između 45 i 50 kvadrata i to su jednoiposobni i dvosobni stanovi, naročito bez grejanja ili sa ugrađenim kalorimetrima zbog visoke cene daljinskog grejanja.
U toku ove 2019-te godine, potražnja je bila izuzetno velika, što je impliciralo povećanjem cena nekretnina, a i samo tržište nekretnina je veoma intezivno i za poslednjih šest meseci je poraslo za 7,7%.
Prognoze
Dok vlasnici nekretnina smatraju da se nikad ne zna i da je nezahvalno prognozirati kretanje tržišta nekretnina, neke prognoze za 2019. godinu kažu da bi ova godina trebalo da donese porast cena za još koji procenat, da bi se ona stabilizovala i tržište ustalilo, barem u Beogradu, dok će u Novom Sadu ono i tokom narednih godina ići na gore.
Sudeći po ovim prognozama, bolje će proći oni koji budu prodavali nekretninu.
Za utehu onima koji sada moraju da kupuju stan je to što će ga sada evidentno jeftinije platiti nego za neki mesec.
(izvor: Blic)