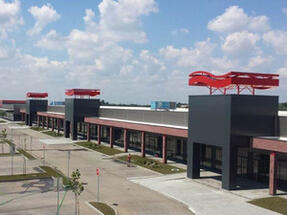 People of Zemun, New Belgrade, Zemun Polje, Batajnica, Altina, Ugrinovci and those living in neighboring places and on the other side of the river - Borca, Ovca, Krnjaca (thanks to the new bridge), will be among the first to see the results of the work that Serbian construction companies and domestic team of engineers carried out over the past year, which is how long it took to complete the first phase of construction of Zemun park.
This EUR 25 million investment currently occupies a surface area of 16,000 square meters, and the plan is to expand this facility and employ more than 600 workers.
- We certainly made the right move by placing the MIVNE group's first investment in Serbia here. Our aim is to make this shopping center a place where all generations can have quality time and enjoy the amenities offered. While developing this project, we realized that quality office space is in high demand among local and international vendors, and we believe we will have excellent cooperation with business partners, consumers and the local community in the future- said Nir Makdasi, regional manager of the MIVNE group.
The fact that more than 95% of space has already been rented speaks volumes about the interest of vendors in Zemun park. It is expected that over 400,000 people from the capital city will gravitate to this new "shopping temple" as it will be the nearest destination where they can find everything they need at one place. 
Aside from being a shopping center with additional amenities, Zemun park is also environment-friendly and energy efficient facility that recycles water and uses it to water and clean the terrain.
The future shopping center will feature the stores of numerous domestic and foreign renowned brands as well as the country's biggest playground for children, the new concept of UniverExport hypermarket, Do-it-yourself and Home Center outlets...
Official opening is scheduled for mid-May, and investors hope that Zemun park will become the new "heart" of Zemun that day.
Mivne Group is a leading Israeli group in the field of property management and development of commercial facilities. It runs shopping centers on over 4 million square meters worldwide. Mivne Group is a subsidiary of the Fishman Group and is comprised of prestigious companies Industrial Buildings Corporation, Jerusalem Economy and Darban.
Source: eKapija.com